Guhantara is a cave resort near Bangalore. This place, abounding in creativity and originality, has all the amenities and comforts of a big resort, but without disrespect to the environment. The entire structure is constructed underground, in a cave, using natural elements as an addition to the architecture.
When you enter the complex, you get a feeling of having gone back into time. Spending a day here is akin to being in a fairytale forest, but with proper beds, food and drinks!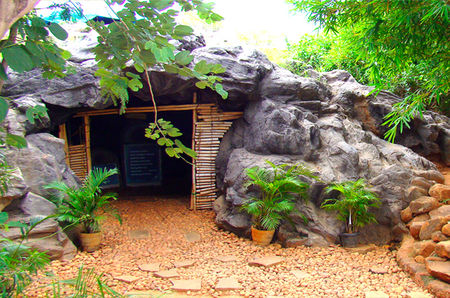 The resort has five areas that provide different services – a food hall, a bar lounge, an auditorium, a conference room and a spa.
Sambhojana
The food hall is where all meals are served. The name roughly means 'eating together'. The decor is traditional and charming.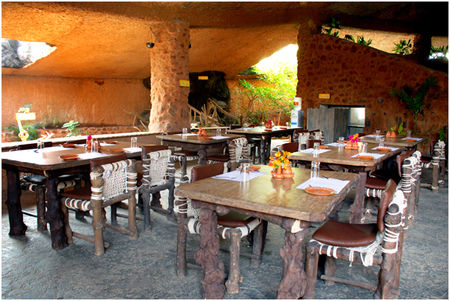 Madhushala 
The bar lounge, with an austere decor. The atmosphere is as intoxicating as the drinks stirred up by the experienced bartenders.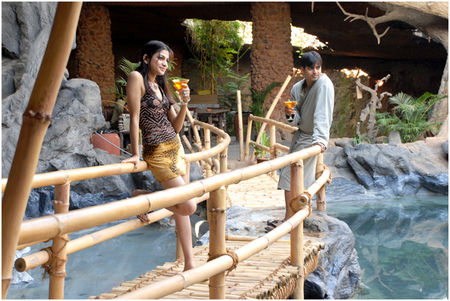 Rangamandapa
The auditorium is a huge room with a capacity of 700 people, where folk artists whip up magic with their performances.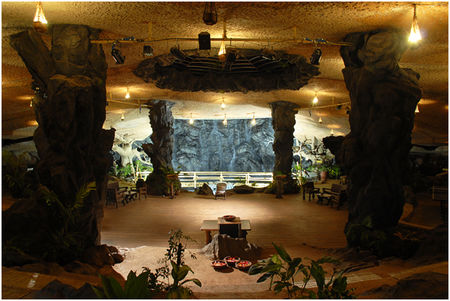 Samvaad 
The resort's conference room, equipped with state of the art facilities such as Wi-Fi, a projector etc. The vibe of the room encourages you to be at your best and as productive as you can be.
Agastya Kuteera
The spa, designed to provide a rejuvenating experience. With expert Ayurvedic physicians and professionally-trained therapists, a session in this spa will make you feel relaxed and refreshed.